Shelbyville Illinois Area Wineries
Willow Ridge Vineyards & Winery
Willow Ridge Vineyards & Winery is situated on a sesquicentennial farm and is owed and operated by Louis and Tina Donnel. Nestled in a rural setting, you'll find an upscale casual atmosphere to enjoy a glass of wine, visit with friends, sit by the fireplace or relax on the terrace overlooking the vineyard.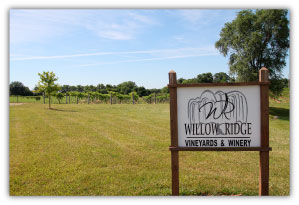 This inviting winery has a Tuscan style atmosphere with a handcrafted bar, stone fireplace, stained glass windows in the cozy tasting room with seating for up to 40 people. The banquet room seats 175 people maximum and is available for special, private occasions, except on major holidays.
They offer a complimentary wine tasting, with wine available for purchase by the bottle and glass.
It's located 8 miles northwest of Shelbyville, just a half mile west of the small town of Westervelt.
They're open year round during the following hours:
Wednesday, Thursday, Saturday – 10:30 to 5:30.
Fridays – 10:30 to 6:30.
Sundays – Noon to 5:30.
Starting May 4th Fridays 10:30-8:00
For more information, visit: willowridgewinery.com or call (217) 738-2323
Vahling Vineyards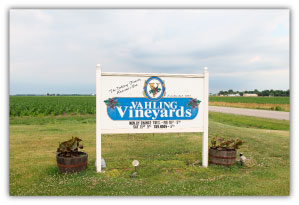 First opened in 1997 by Brenda and Dennis Vahling and their children, Vahling Vineyards bottles and markets their wine using a variety of grapes that are indigenous to the Shelbyville area.
They have narrowed their selection down to 5 superior varieties while also carrying non-alcoholic beverages.
The vineyard is located near Strewardson and they're open:
June through December
Hours: Tuesday – Saturday 10 am – 5 pm
Sunday -  Noon – 5 pm
Closed major holidays.
For more information visit their website here or call (217) 682-5409
Niemerg Family Winery
This father son trio, Don, Bill & Dan opened the Niemerg Family Winery in the fall of 2007.
They offer a wide range of wines with grapes which have been imported from across the U.S. as well as local to Illinois and nearby Michigan & California.
The tasting room has been completed and the renovation of the 100 yr old building will be a work in progress for the next few years.
The winery is located at 301 S. Main St. in downtown Findlay.
For more information call (217) 756-5521
There are lots of great wineries near Shelbyville, so come on out and meet up with some of the finest winemakers in the area.